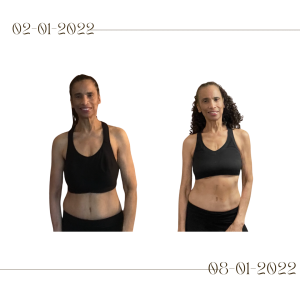 It was 6 months ago today that I began my annual February 1st challenge. Every year on that date I start a new physical regimen or activity, giving myself full permission to dump it at the end of the 28 (or 29) days if I'm not feeling it.
This year's challenge: almost daily workouts, as in every day except Sunday doing some sort of resistance training for at least 15 minutes.
Now, if you've read my book "The Click", you'd know what a truly ambitious goal that was. I didn't even start lifting weights until I'd lost 75 pounds and was forced to do something about the skinny fat look. Then I did the same workout 3 days a week for the longest until I finally branched out.
So yeah, every day was ambitious but having my "out" at the end of the month makes it easy — you can do anything for 28 days right? And deep down I knew that this was something I needed to do because 3 days a week was not really working my entire body.
Well I must say that, other than the original February 1st challenge that inspired "The Click", this has been the most life changing of them all. Daily workouts have become a habit that my body looks forward to, I feel healthier than I've ever felt in my life. The best part — I have no trouble maintaining my dream weight of around 130 pounds. Indeed, during the 6 month challenge, my weight actually dropped to the low 120s and is now 124.2, exactly 10 pounds less than February 1st 2022.
All in all, a very successful February challenge that has now become a part of my daily life!